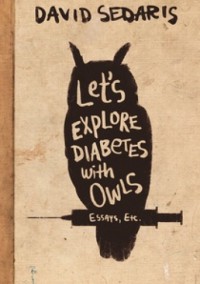 Another trip through the mind of Sedaris as he discusses world travel, keeping journals, colonoscopies, and owls. If you're hoping to write a book report without actually reading the book, diabetes is not discussed, however.
Once again Mr. Sedaris favors the bite-sized story approach, be it reflections culled from his journals about home improvements on historical buildings or channeling a 16-year old girl who has freshly returned to the U.S. from a school trip to England.
While the book is funny, there is nothing that stands out as prominently as his story of being a department store elf. I do wonder how he managed to pee on a kitten though. I mean really, was the kitten sleeping or something?
It's more enjoyable than "Me Talk Pretty One Day", and certainly delightfully un-PC with observations like a desire "to have more friends who are paraplegics".
A solid work, and I'd probably give a less talented guy five stars. But I'm going to have to go with 4-4.5 for him on this one.